Be soothed by the world-famous Setouchi islands Your fabulous and quality getaway awaits
Marissa Retreat
Respect for Nature–
Find yourself in tranquil and magnificent nature
Relaxation and Luxury–
Immerse in our cozy and comfy environment
Reborn with Activities–
Explore the true, real you
MARISSA RESORT sazanseto suo-oshima
We're pleased to serve with legendary hospitality

Resort Name
"Marissa" is a feminine personal name in English, Italian, and Spanish.
Our resort is named "Marissa" as we wish to be extraordinary, tranquil, and spectacular so you could come and join us for a wonderful retreat from everyday weariness, hassles, and complicated interpersonal relationships.
We've chosen to keep "Southern Seto" in our name so as to resemble The much loved original "Hotel & Resort Southern Seto" at the same location with 30 years of history, also developed by Towa Tourism Development Co., Ltd. Considering our future journey with the community of Suo-Oshima, we are, finally, "Sazanseto Suo-Oshima".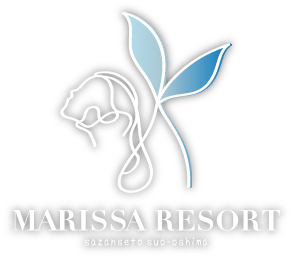 Resort Logo
The resort logo of "MARISSA RESORT sazanseto suo-oshima" outlines the island's shape.
The one-line design reveals how much we cherish the bonding between "Suo-Oshima Island" and "Marissa".
As public concerns in sustainability grow globally, we set our SDG goals in 2020-
"protect the ocean", "support food safety and agriculture", "support education on the island", "revitalization," etc. We strive our best to achieve these goals at all times.

During our renovation, we also endeavor to go environmental-friendly.
We reused the profound solid front door of the original resort
(which has been used since the grand opening)
as well as the terracotta tiles we ordered directly from Italy.
We also aim to preserve the precious memories of our loyal customers.

Aiming to be a resort to preserve nature and utilize the power of nature to soothe the body, soul, and spirit of our guests, we joined in the "Regional Circular and Ecological System" in which the public and private sectors work hand-in-hand to solve environmental, economic, and social issues during various business activities. We'd love to continue to contribute to the sustainable development of Suo-Oshima in the future by enhancing the public image of the island.
・Wheat amenities to reduce CO2 emissions and plastic usage (in standard rooms)
・Durable and reusable bamboo amenities ( in executive rooms)
・Out skincare items contain Yamaguchi bamboo, which is rich in minerals, highly moisturizing and antioxidizing (SPA, for female guests)