Discernable accommodations unique to luxury resorts
We're pleased to provide an executive lounge, an esthetic salon, spas, swimming pools, a fitness studio, restaurants, and a cafe for our guests.
Infinity lagoon
Under the glorious sun are the epic views of Setouchi uniting the sky and the sea…
Spend a luxurious moment basking in the splendid, extraordinary, and satisfying views.
Executive Lounge
Our exclusive concierge team is pleased to bring premium check-in/check-out prestige to our VIP guests.
Welcome to the executive traveler experience, the gateway to the glory and breeze of Setouchi through our resort entryway.
Information
[Opening Hours]
Day Time) 9:00 am - 2:30 pm
Teatime) 3:00 pm – 4:30 pm
Cocktail Time) 5:00 pm - 6:30 pm
(*) Exclusive access for guests of Suite & Premium/ Spa Deluxe room
SPA
SPA
Take in greenish views where your enjoyment has no end in sight.
Information
| | |
| --- | --- |
| Public bath | 6:00 am -11:00 am, 3:00 pm – 11:00 pm |
| Sauna | 3:00 pm – 11:00 pm |
Swimming pool
Swimming pool
Indoor swimming pool) length 20m; depth 1.2m
Outdoor swimming pool) length 15m; depth 0.7m, Kid's jacuzzi (30℃)
Information
Indoor swimming pool
9:00 am – 8:00 pm

* open 365 days a year

Outdoor swimming pool
9:00 am – 6:00 pm

* open only in summer
See details of the opening schedule
Esthetic salon "Liliana"
Esthetic salon

"Liliana"
Escape to our tranquility with utmost relaxation for your body and soul;
Indulge in specially tailored treatments
Information
Opening hours
2:00 – 10:00 pm
(close on Thursdays)


(Opening every day from July 21st – August 30th, 2023)

Last reception is at 6:00 pm
See treatment menu details
Restaurant

"Aria"
Creative French cuisine made with farm-fresh Suo-Oshima local vegetables blessed by Setouchi's nature
Let your body and soul be soothed by an array of exceptional cuisine, energized by fresh food ingredients, and blessed by Setouchi
Information
Opening hours

Breakfast session

7:00 - 10:00 am (last reception & last order at 9:30 am)

Dinner session

5:30 - 7:00 pm (last reception at 5:30 pm; last order at 6:30 pm)
7:30 - 9:00 pm (last reception at 7:30 pm; last order at 8:30 pm)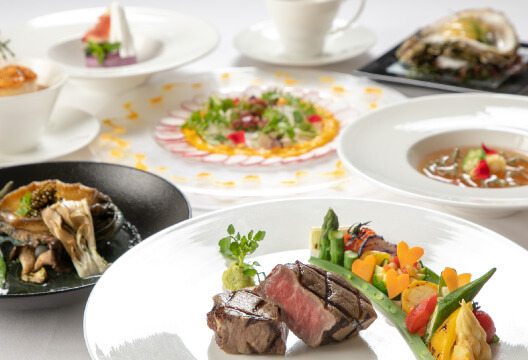 Dinner
Standard menu) Amuse-bouche, hors-d'œuvre (starter), soup, fish dishes, meat dishes, rice dishes, breads, desserts, coffee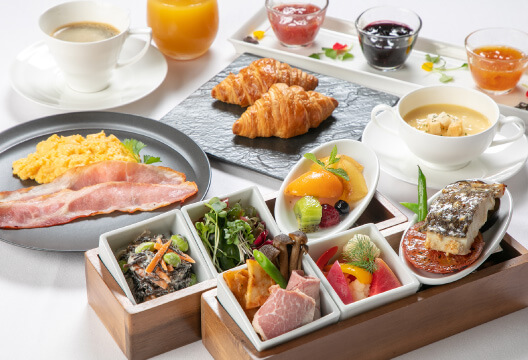 Breakfast
Standard menu) breakfast sets or buffet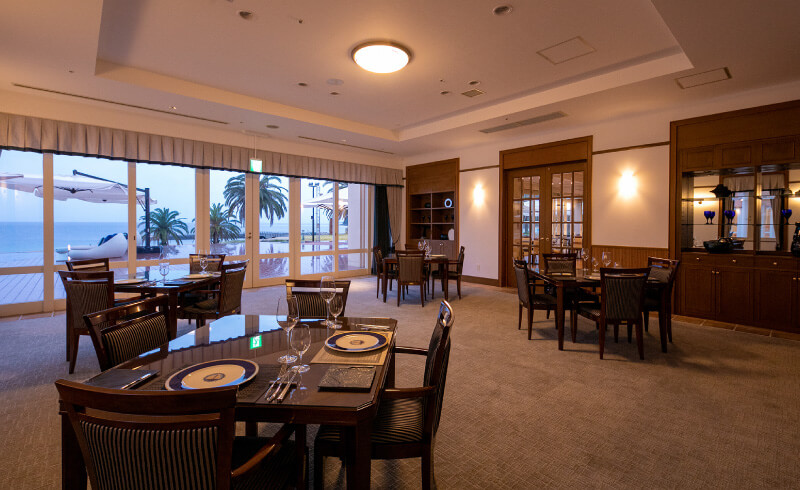 Restaurant

"Erin"
Exclusive access for VIP guests of executive rooms.
Information
Opening hours
5:30 - 9:00 pm
(last reception at 7:30 pm; last order at 8:30 pm)
* Executive access for suite & premium room guests
(*) Be mindful that we have a dress code.
No room gowns/tank tops/outfits with excessive exposure/sandals /caps/hats
No specific dress code for kids.
(*) Please do not hesitate to call us for inquiries about food allergies.
Phone No.)

0820-78-2121

[Operation hours] 9 am – 6 pm (Japanese voice guidance)
PATIO
PATIO
Our courtyard surrounded by buildings is a dry garden where a huge number of herbs such as olives, lavender, and rosemary are grown. The lovely garden is also opened as a dining place for both breakfast and dinner sessions. It looks like a tiny little path visible from the room corridor on the 2nd & 3rd floors.
Ballrooms
Ballrooms
We have 3 ballrooms in total- one big ballroom (can be divided into 2, patio view) and two small ballrooms (facing the front traffic circle with stunning views).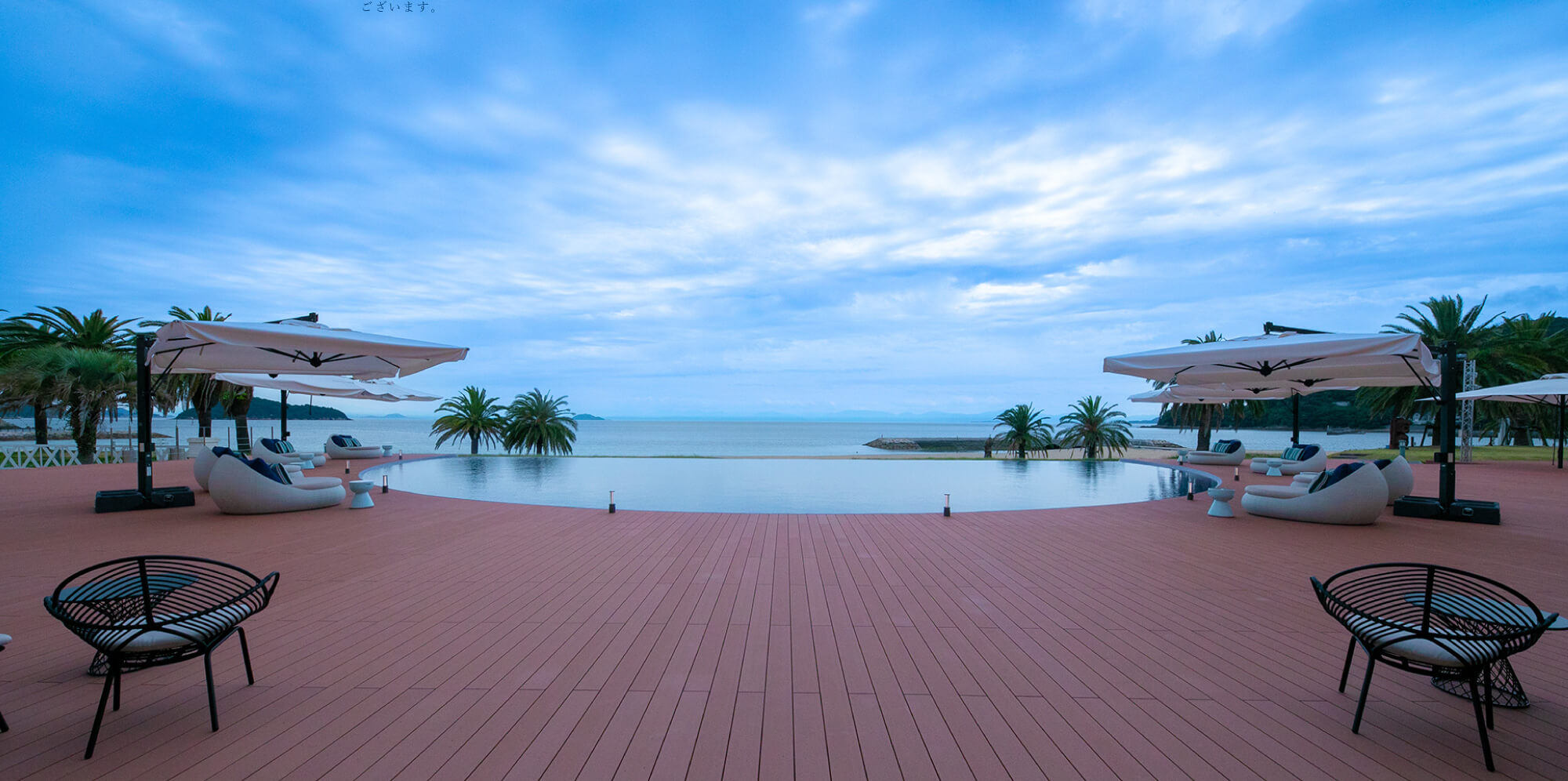 Others
BAR

We're pleased to serve alcoholic drinks at our executive lounge (chargeable)
Open for all resort guests

Opening hours
7:00 – 10:00 pm
(last reception & last order at 9:30 pm)

See bar menu details

Resort items/ furniture

Conscientiously curated and created by a local wood craftsman from Suo-Oshima. Fountain pens, earrings, and other items made from tangerine trees are available for sale at our store.

For all your shopping indulgences

Take your picks at our exclusive store with lines of heavenly items with our logo. You will encounter your best Suo-Oshima souvenir here.

| | |
| --- | --- |
| Opening hours | 8:00 am - 9:00 pm |
Basic Information about Our Public Bath
Public bath

Sauna
Name of hot spring
Katazoehahama Hot Spring
Hot spring type
public bath, open-air bath, water bath, sauna
Bath facilities & amenities

Bath towels
Face towels
Body soap
Shampoo
Conditioner
Q-tips
Cotton
Hair dryer

Male bath

Hair tie
Razor
Face wash
Toner
Hair care kit

Female bath

Hairbrush
Hair oil
Cleansing oil
Face wash
Toner
Lotion
Shower cap

Facilities

Cold water server
washlet
Basic Information about Our Resort
Location
1347-1, Hirano, Suo-Oshima-cho, Oshima-gun, Yamaguchi, Japan (742-2512)
Phone

0820-78-2121

Getting here
Approx. 1hr from Kuga Interchange through National Route 437; 1-min walk from Katazoehahama Beach; 4-min drive to Tetsuro Hoshino Museum; 5-min drive to"Michi no Eki Sazan Seto Towa" rest area
Shuttle bus service
Shuttle bus [free], personal pick-up/drop-off service [free]
Car park
135 parking spaces [free]
Resort facilities

Delivery service
Rental DVD player
Rental bikes (e-bikes are also available)
Public phone
Ice maker
Microwave oven
Smoking area
Library
vending machines

Normalization services

Rental wheelchairs
Handicapped accessible bathrooms
AED equipment
Welcoming guide dogs & assistance dogs

(*) For your comfort and safety, please contact us in advance. Phone No.)

0820-78-2121

Children friendly

Baby room
Nursery room
Baby beds
Children slippers
Children gowns
Welcome bringing in baby food
Cutlery available
Baby bottle washing service

(*) For your comfort and safety, please contact us in advance. Phone No.)

0820-78-2121